Comedy-Mystery Dinner Theater
Performed by
Jest Murder Mystery Company
Our lively period-piece who-done-it features a delicious dinner and audience participation. Great for groups.

---
2015-16 Dinner Theater Schedule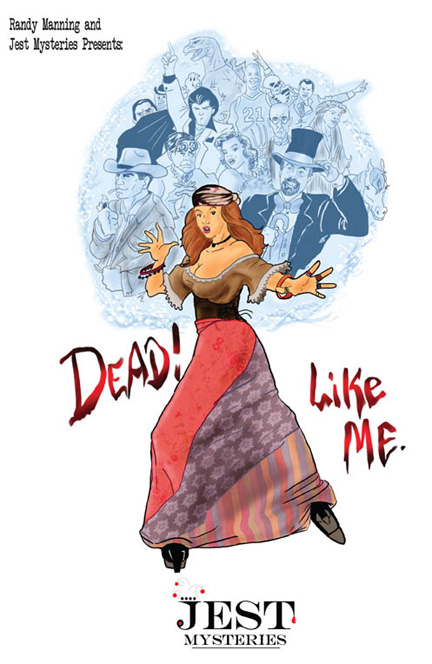 Sept. 4 - Nov. 14, 2015:
"Dead Like Me"
Welcome back to the land of the living! Why the welcome? Because you're dead. That's right, you're "deceased" and you have "teleported" back to the land of the living for a union meeting of "The Brotherhood of Obituary Occupants" (BOO). It'll be a lot of fun for all you dead people to catch up! But watch out for that rascal "P. T. Barnum" because he's up to his old tricks and is trying to pull you into his latest scheme! What do you threaten a dead man with? Find out by attending this goofy whodunit for the deceased where you'll meet lots of crazy characters! You'll play as big, (or as small), a part as you wish! Who knew being dead was so much fun!!!!????
Nov. 20, 2015 - Jan. 2, 2016:
The Christmas Show, "The Naughty List"
Bad News! You made Santa's naughty list! Ouch! Now's your chance to convince Santa to take you off of it. But wait a minute! That Russian bad guy 'Boris' has found out and he's promising to blackmail you! What if someone knocks him off? Then you'll have a great time figuring out who did it!!!! This show is full of fun, comedy and lots of audience interaction! The more you get involved, the more fun you'll have!
---
Public Comedy-Mystery Dinner
Every Friday and Saturday night at 7:00 p.m.
Pricing:
$52.95 per person
Menu includes:
House Dinner Salad
Country Fried Chicken with White Gravy, Mashed Potatoes and Vegetable
Wines Served with Entree
Dessert
Coffee/Tea
Cash bar is available.
Price includes sales tax and gratuity.
Please call for reservations, (314) 664-8024 or contact us here.

---
Private Comedy-Mystery Dinner
Available any day, any time. Private room fee - from $150.00 to $1,500.00.
Comedy-Mystery Actors fee priced per event.
*Pricing does not include tax.
Please call for reservations, (314) 664-8024 or contact us here.
---