Comedy-Mystery Dinner Theater
Performed by
Jest Murder Mystery Company
Our lively period-piece who-done-it features a delicious dinner and audience participation. Great for groups.

---
2015 Dinner Theater Schedule
May 1 - Aug. 29, 2015:
"A Fistful of Hollers!"
Welcome to the town of Dry Gulp located right in the heart of the Old West. This town has lots of problems and the biggest one is Nasty Nate (the local bad guy). Gee, hope no one riles him up, no telling what'll happen! Join us for an exciting evening of murder, mystery and mayhem at the funniest dinner theater show in St. Louis. And don't forget to wear your boots, 'cause it's gonna get pretty deep!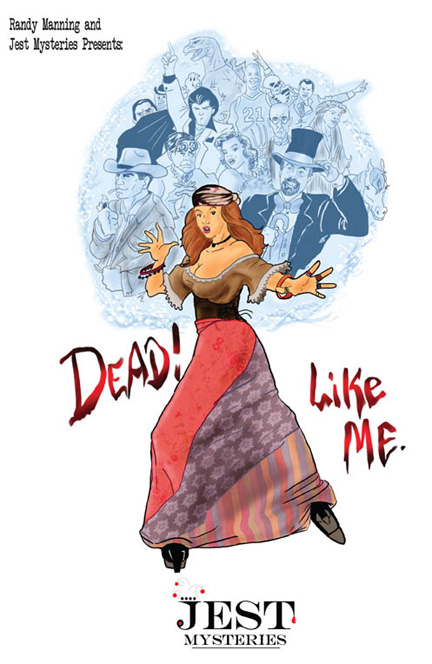 Sept. - Mid-Nov., 2015:
"dead- Like Me"
Nov. 20, 2015 - Jan. 2, 2016:
The Christmas Show, TBA
---
Public Comedy-Mystery Dinner
Every Friday and Saturday night at 7:00 p.m.
Pricing:
$52.95 per person
Menu includes:
House Dinner Salad
Country Fried Chicken with White Gravy, Mashed Potatoes and Vegetable
Wines Served with Entree
Dessert
Coffee/Tea
Cash bar is available.
Price includes sales tax and gratuity.
Please call for reservations, (314) 664-8024 or contact us here.

---
Private Comedy-Mystery Dinner
Available any day, any time. Private room fee - from $150.00 to $1,500.00.
Comedy-Mystery Actors fee priced per event.
Please call for reservations, (314) 664-8024 or contact us here.
---