Comedy-Mystery Dinner Theater
at The Lemp Mansion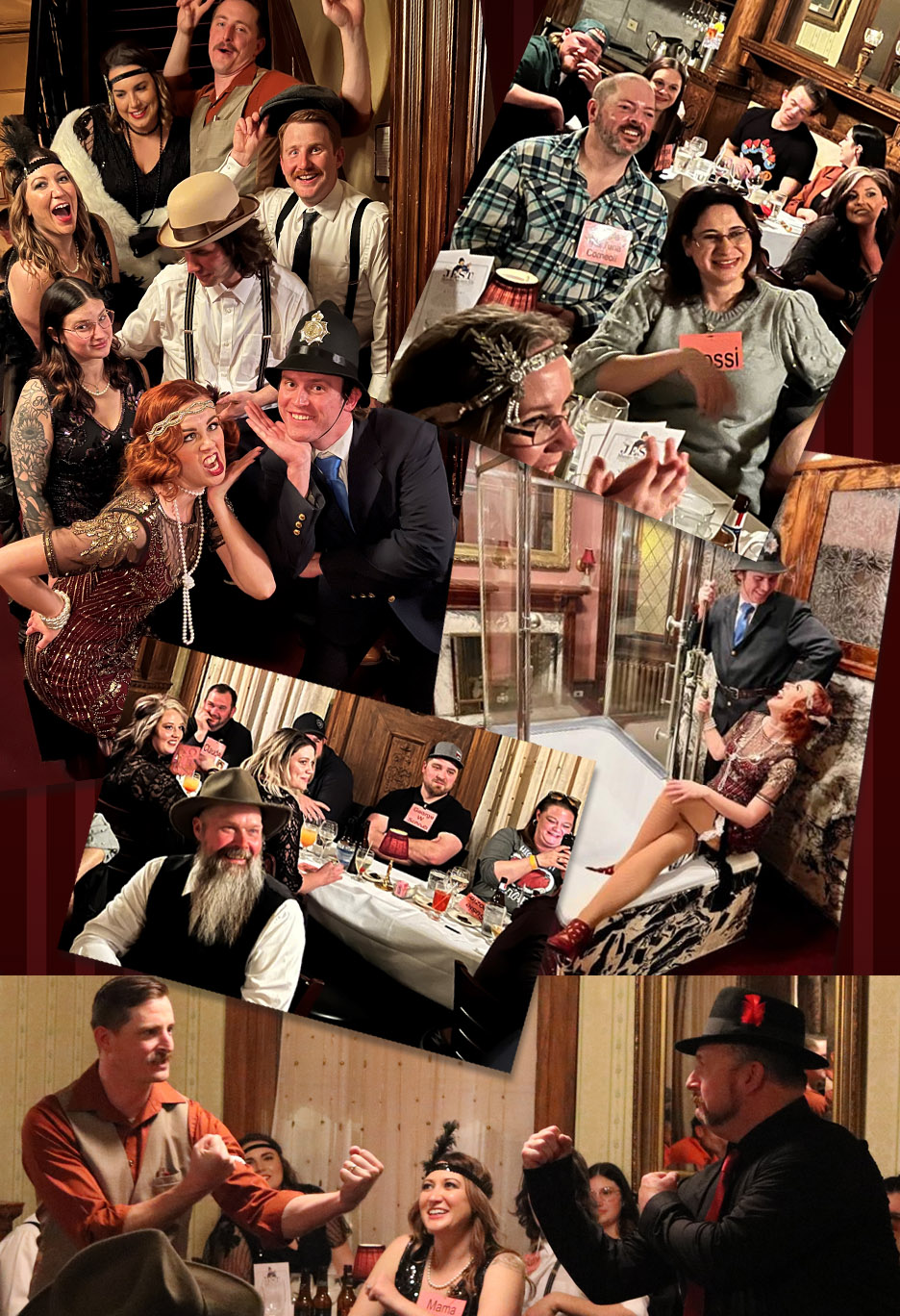 Performed by Jest Murder Mystery Company
Our lively period-piece who-done-it features a delicious dinner and audience participation. Great for groups.



2022-23 Dinner Theater Schedule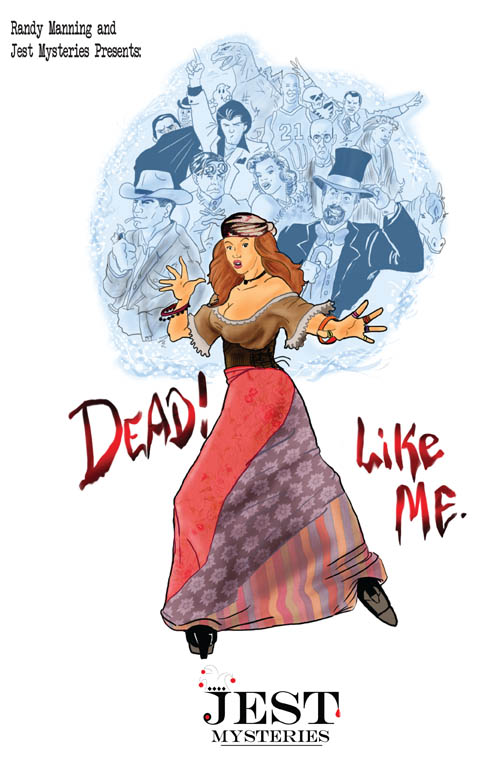 "Dead! Like me."
Sep 2nd – Oct 29th, 2022
Death is in the air as guests join Marilyn Monroe, Babe Ruth, Juliet and her Romeo, Nixon and other grizzly ghouls as they emerge from the Land of The Dead for the annual Brotherhood of Obituary Occupants Union Meeting (That's BOO for short). Be sure to leave your pulse at home because everyone at this party is dead... even you! There are lots of shadowy characters at this fun, interactive murder mystery but none are as sneaky as P.T. Barnum himself. He's always got some devious slimy trick up his translucent sleeves. Gee, hope nothing happens to him! But just in case it does... will you figure out who-dun-it? Or will all waggling fingers be pointing at you?
Embrace your inner dead person and dress as your favorite specter. Then join your fellow walking dead and find out what happens when the ectoplasm hits the fan at this interactive Jest Murder Mystery Company Show!
_________________________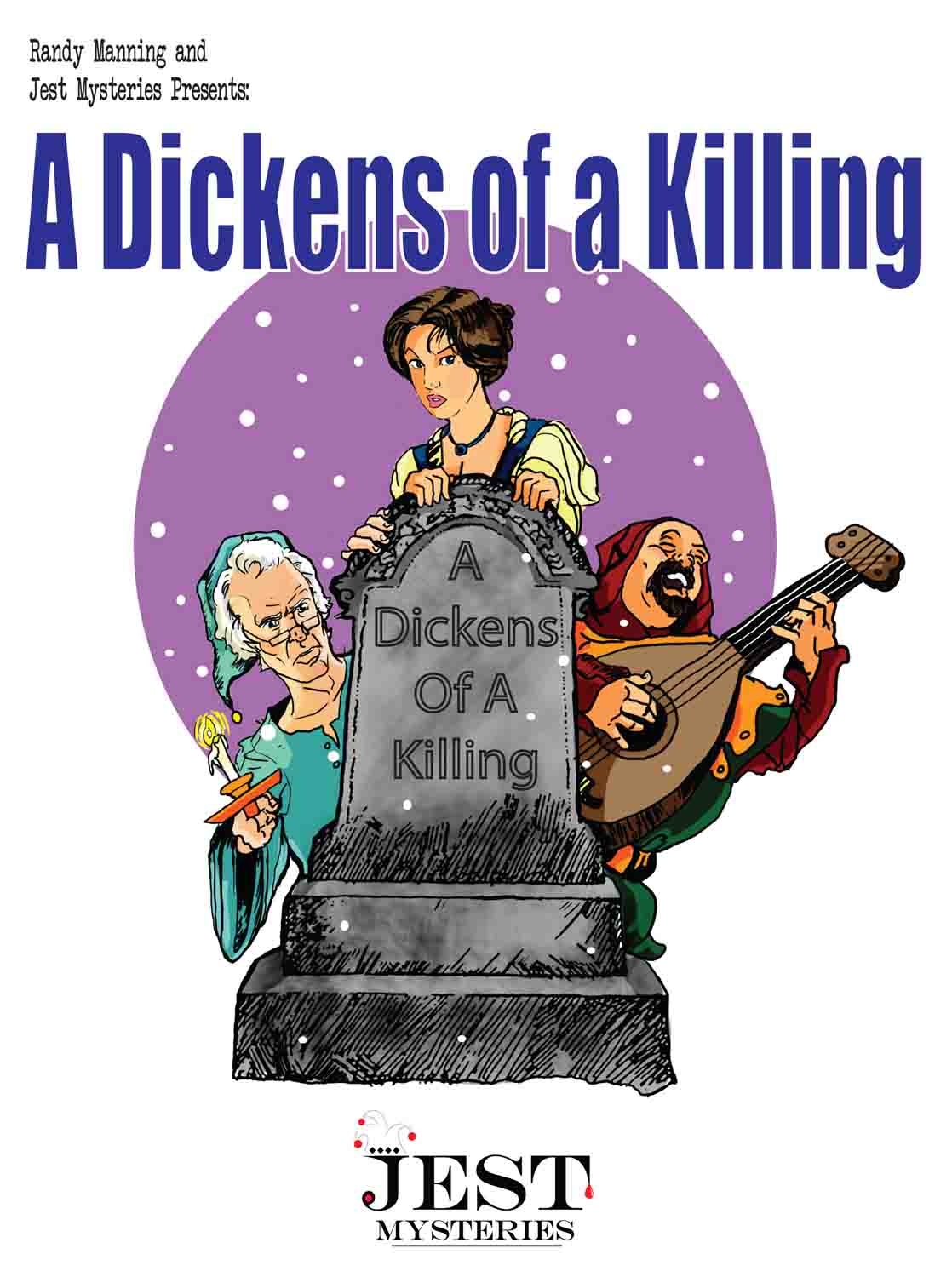 "A Dickens of a Killing"
Nov 4th, 2022 – Jan 7th, 2023
Baaaaa Huuuumbug!!! Ebenezer Scrooge will be back to his old tricks and is bound to make a few enemies at this Christmas Party chock full of Charles Dicken's Characters. Just when Beep (The Minstrel) gets everyone in the Holiday Spirit, Scrooge barges in and starts talking about gruel. Geez, hope no one snuffs Scrooge out before he stops bellowing! Guests will dive into the fictious world of Charles Dickens and join Pip, Martha Cratchit, Oliver Twist, The Ghost of Jacob Marley, Tiny Tim and so many more in this cheerful murder mystery parody of a Holiday Classic. Whether you want to participate a little or a lot, you're sure to have a jolly good time, in jolly olde England, where there is sure to be "A Dickens of a Killing!"
Dress up like your favorite holiday character and let the finger pointing begin at this wildly interactive Jest Murder Mystery Company Show!
Public Comedy-Mystery Dinner
Every Friday and Saturday night at 7:00 p.m.
Pricing:
$65.95 per person*
Gratuity included.
Menu includes:
House Dinner Salad
Boneless Breast of Chicken served with Potato and Vegetable
(Vegan, vegetarian and gluten free available)
Wines Served with Entree
Dessert
Coffee/Tea
Cash bar is available.

*Pricing does not include tax.
Private Comedy-Mystery Dinner
Available any day, any time. Private room fee - from $200.00 to $2900.00.*
Comedy-Mystery Actors fee priced per event.

The Lemp Mansion will reschedule events that are required to be postponed due to natural disaster, acts of God, government mandates or circumstances beyond our control. Refunds WILL NOT be issued due to these circumstances.