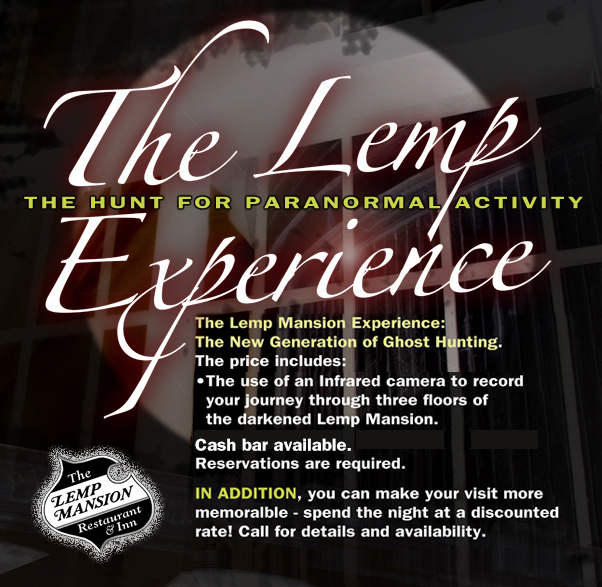 The Lemp Experience
The New Generation of Ghost Hunting

$35.00 per person
+ tax and handling fees
About the Lemp Experience:
The Lemp Experience is offered every other Thursday from December to August with additional days added in September, October and November. The start times vary between 5:30p to 8:30p, depending on the time of the year.
The price is 35.00 per person + tax and handling fees. This price includes a cocktail, beer or soft drink and use of an infrared camera to search for paranormal activity throughout three floors of the darkened Lemp Mansion with a Paranormalist.
After introductions and a tutorial of the equipment you will use, the experience begins, which will take approximately 1.5 hours.
All reservations are paid in advance and are non-refundable.
The Lemp Mansion serves dinner from 5:30p - 10:00p on Thursday evenings. Please call 314-664-8024 to make reservations for dinner in the restaurant.
Overnight guest rooms are discounted to $130.00 + tax per room (2 guests) on Lemp Experience nights. Check in takes place after the tours are complete and can be as late as 11:00p.
2020 DATES:
November: 5, 12, 19
December: 3, 17

UPCOMING 2021 DATES:
January: 14, 28
February: 11, 25
March: 11, 25
April: 8, 22
May: 6, 20
June: 3,17
July: 1, 15, 29
August: 12, 26
September: 9, 23
October: 7, 14, 21, 28
November: 4, 11, 18
December: 2, 16, 30


Or call for reservations, (314) 664-8024.
Contact us for more information.

The Lemp Mansion will reschedule events that are required to be postponed due to natural disaster, acts of God, government mandates or circumstances beyond our control. Refunds WILL NOT be issued due to these circumstances.